Xline 2000GPD Auto Flush & Fill Static 4-Stage R/O Pure Water Filtration System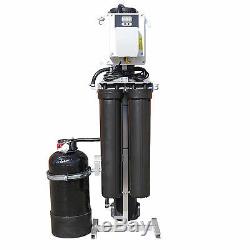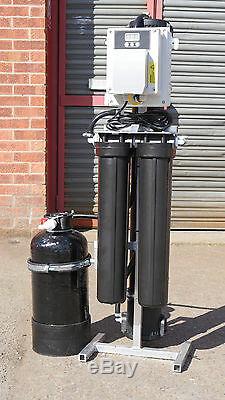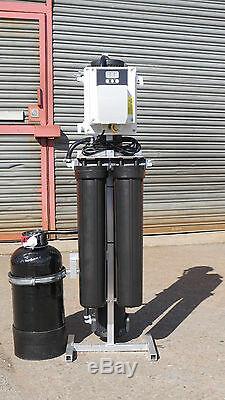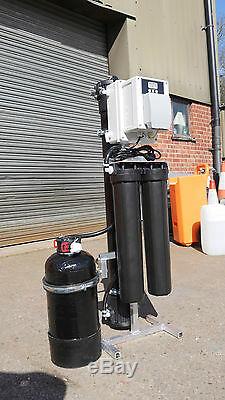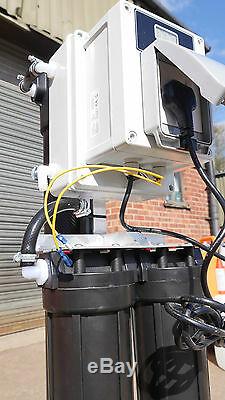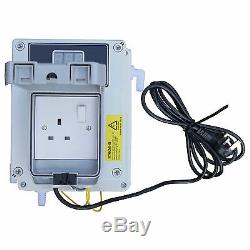 Xline Static Auto-Flush & Fill 2000GPD Reverse Osmosis System + Booster Pump Controller/Shutoff. (2000 Gallons per Day / 9,500ltrs per Day). This 4-stage portable R/O system is the ultimate in pure water filtration, designed for those that want hassle free and low day to day maintenance to produce bulk water on a massive scale and in the shortest time possible. This system offers filling times of around 200ltrs an hour based on an average household tap pressure. Comes complete on an Aluminium frame housing all components designed to stand on the floor.
This systems comes with our automated flush and fill functionality, this fully automates the flushing of your membrane (at the start of the cycle and also every hour for 2 minutes), complete shutoff of water when your tank is full. This system also offers the functionality to control a 240v booster pump, essentially the systems turns the booster pump on while filling, then when the tank is full it kills the power to the booster making sure it will never burn itself out. One of the great features of this system is the fact that you do not need to manually start the filling process everyday, as this system will detect when you start to take water out of your holding tank, and will instantly start to produce pure water until the tank is full again. With this feature you can pretty much guarantee you have a full tank of pure water ready to go all the time. As with all reverse osmosis filter system, the higher the tap pressure from your water source the better this system will run, as this helps to produce water quicker and to also keep your running costs lower over time.
Ideally this system needs to have a tap feed of around 60-90psi. Most UK households have poor tap pressure (less than 50psi) causing fill times to be slower and to increase running costs. We always recommend if you have a feed of less than 50psi then a booster pump will be needed to boost up the pressure. We can supply all of our filtration systems with a booster pump if needed. Aluminium upright self supporting frame.
1 x Low Pressure 40 Spectrum R/O membrane. 1 x 11ltr D/I Resin vessel with quick release ports. Xline Auto-flush & Fill Electronic Controller.
Float valve (for use in your holding tank). Portable Trolley Frame on Wheels. Fully automated flush & fill. Water & Booster pump cutoff (when holding tank full). Auto replenishment of water (detects when holding tank needs more water). 2 x 20 Black Pre filter housings. 1 x 20 5 Micron Sediment Filter Made From 100% Pure Polypropylene Fibres, Removes Dirt, Sand and Rust. 1 x 20 Carbon Block Filter, Composed of High - Performance Carbon, Removes Trihalomethanes, Pesticides, Volatile Organic Chemicals and 99.95% of Giardia and Cryptosporidium Cysts.
1 x The SRO Spectrum 40 R/O membrane is capable of producing up to 9,500 ltrs of pure water a day. With ultra efficient (99%) rejection rates of the SRO -4040, with its low operating pressure capabilities (6.8 bar) make it an ideal energy saving, economical, high efficient membrane. 1 x Robust 40 Carbon wrapped R/O Champ housing made from Heavy duty plastic that houses the 40 Low Pressure Membrane.
1 x Pressure Gauge and waste valve used to flush the filtration system and manually set the product to waste ratio produced from the Reverse osmosis filtration system. Volume: These systems are designed to run for long periods and produce up to 9,500 litres of pure water a day.
Water Usage: Static systems will allow you to use more than one fill of water per day, where van mounted filtration systems would simply take too long to produce a second fill of water to return out to work on the same day. Vehicle Size: By having the option of refilling the tanks throughout the day gives the option of having a smaller tank in a smaller vehicle. Van Downtime: It takes several hours to produce water by the method of reverse osmosis therefore having a static filtration system will allow you to use the vehicle in the evenings when van mounted systems would usually be connected to a tap supply for several hours during the filling process.
Essentially you have to replace the 2 pre-filters every 3-4 months (as these help to keep the main R/O membrane cleaner over time), you then replace the resin inside the D/I vessel as and when your water is no longer pure enough to clean windows (we change ours when our TDS level reaches 004ppm). The main 40 R/O membrane should last around 3-5 years on average. The item "Xline 2000GPD Auto Flush & Fill Static 4-Stage R/O Pure Water Filtration System" is in sale since Tuesday, April 21, 2020. This item is in the category "Home, Furniture & DIY\Household & Laundry Supplies\Cleaning Tools\Squeegees & Window Cleaning". The seller is "xline-systems-2008" and is located in Ilkeston.
This item can be shipped to North, South, or Latin America, all countries in Europe, Australia.
Brand: Xline Systems
MPN: STATICAUTOFLUSH
Country/Region of Manufacture: United Kingdom
Type: Window Cleaning Accessory