Vyair 300gpd reverse osmosis r/o water purification system window cleaning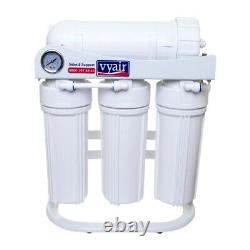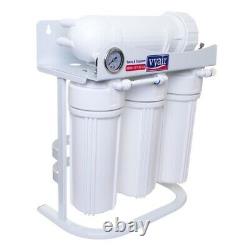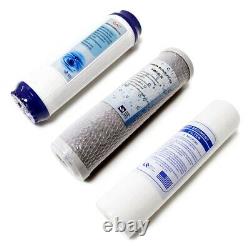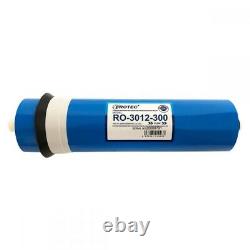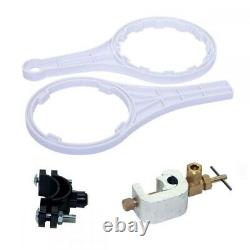 4 Stage 300GPD Home Drinking/water fed pole window cleaning Water Filter System Reverse Osmosis Clean Water. A professional and modern under-counter water filtration system is essential in everyone's home. Apart from food, people today depend on water for healthy living. When water becomes contaminated, individuals may be exposed to life-threatening illnesses.
Setting up a water filter for your house makes a superb start. The solution for potentially contaminated tap water is a quick and cost-effective home appliance that offers clean, healthy and chemical-free water. Primarily based on its filtration capacity, this reverse osmosis systems offers all the protection your family needs to maintain good health. This professional 4-stage water filtration system is economical and easy to use. It thoroughly purges your water of various types of pollution.
The filtration process is based on three in-line cartridges. This system will remove impurities such as sand, rust, suspended particles to the size of 5 microns, chlorine, organic matter, reduce the hardness of your water and improve its taste and aroma. An advantage of this system is that it has a wide range of interchangeable water filter cartridges, so the system can be freely configured according to your needs with the use of sediment, speciality and carbon filter cartridges. A high quality "three-layer-configuration" composite membrane, which consists of a thin polymer layer deposited on top of a porous polymer layer on top of a non-woven fabric support sheet, facilitates the removal of mechanical impurities, bacteria and viruses.
A further key feature of this system is an in-built pressure gauge which allows for pressure drop monitoring. This 4-stage water filtration system is factory tested and ready to use with connection hardware, tubing and instruction manual. System dimensions: (H x W x D): 480 x 220 x 360 (mm). 5°C - 40°C (41ºF - 104ºF). Operating Pressure: 3 bar (40 PSI) - 6 BAR (90 psi). Inlet feed water connector: 3/8.
Waste to product ratio is 3 to 1 (approximately 25 - 30 litres of pure water per hour). Typical Rejection Rate: 98% TDS (Total Dissolved Solids). PH Parameters: 2 - 11. Iron: 0.2 ppm maximum.
High quality and competitive pricing. Easy to install and maintain with all accessories provided. Designed to improve taste and odour of water with enhanced dirt-holding capacity. Produces pure water quickly with (1).
High-capacity 300 GPD membrane to provide faster than average flow. In-built pressure gauge allows for accurate pressure drop monitoring.
100% sterilized and manufactured in compliance with NSF Standard No. Manufactured from WQA and FDA approved materials. System constructed with John Guest style push-fit connections.
Completely assembled and ready to use. Factory tested in the UK. Point-of-Use (POU) systems can filter out bad tastes, colours, odours, particulates, which pose no health risk but still affect the water quality. Recommended for ice-making, tea and coffee, baby formula, pet feeding, beauty, washing, dietary/medical requirements, plants. Kitchen compact, perfect for families of all sizes, and will easily fit into any under counter space.
This system will improve the aesthetics of water used for drinking and cooking. The RO-300 is supplied with the following cartridges. FDA approved water filter housings (including o'rings). Feed water connector (can be fitted to copper mains water pipe). RO membrane element type: RO-1812-300 thin film composite (one of).
Drain saddle valve, spanners for filter and RO housings. 1/4 tubing for system connection (5 metres). 3/4 tubing for system connection (5 metres). 1200cc flow restrictor, manual flush switch. ADVISORY : Avoid cheap water filtration systems and cartridges which have no testing credentials or certifications, and often leach harmful chemicals into the water which are linked to cancer, birth defects and infertility.
In addition, cheap components may also lead to membrane fouling, leaks and general poor performance. Instead, always choose VYAIR tested and certified water filtration systems and cartridges. 10 sediment cartridge (pre-filter) melt-blown polypropylene. 5 micron sediment filter traps dirt, sediment, rust and other particulate matter. 10 granular activated carbon cartridge (pre-filter).
Coconut shell granular carbon is used to reduce chlorine, colour, taste, odour, pesticides and volatile organic compounds. 10 coconut shell carbon cartridge (pre-filter). Activated carbon block assures high-quality pure water by further reducing chlorine, colour, taste, odour. Single thin film composite reverse osmosis membrane (300 GPD - US Gallons), 0.0001 micron.
Semi-permeable membrane removes salts, minerals, metals, bacteria, viruses, cysts, TDS, hardness, fluoride, pesticides, lead, mercury, cadmium, arsenic and more. Due to the time needed to remove all these ingredients we strongly recommend purchasing a water storage tank with your RO system. IMPORTANT: Do not use with water that is micro-biologically unsafe or of unknown quality without adequate disinfection before or after the system. Water filtration systems can help reduce the presence of contaminants. In addition, some water filtration systems can help reduce the presence of micro-organisms or other contaminants that pose potential health risks.
Regularly scheduled maintenance and replacement of the filter cartridges is recommended in order for the product to perform as specified. Replace the filter cartridges at least every 3 or 6 months (depending on water quality).
Replace the RO membrane every 2 to 3 years (depending on water quality). The item "Vyair 300gpd reverse osmosis r/o water purification system window cleaning" is in sale since Thursday, October 15, 2020.
This item is in the category "Home, Furniture & DIY\Appliances\Small Kitchen Appliances\Water Purification\Water Filters". The seller is "kayleighw12" and is located in Gosport.
This item can be shipped to United Kingdom.
Brand: Vyair
Type: Water Filter
Filtration Method: Reverse Osmosis
Model: 300gpd
Compatible Model: 300gpd