VYAIR 100GPD Pumped 4-Stage Reverse Osmosis Fish & Aquarium Water Filter System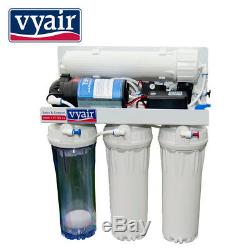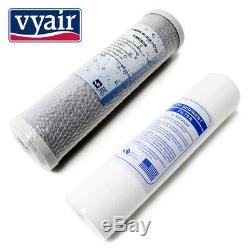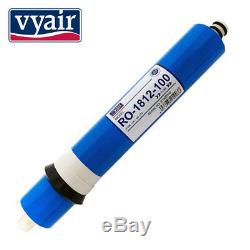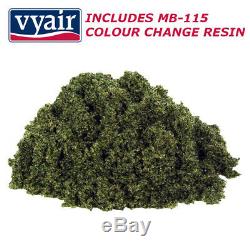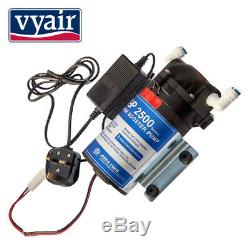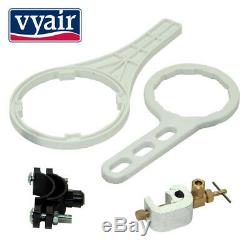 VYAIR 100GPD Pumped 4-Stage Reverse Osmosis Fish & Aquarium Water Filter System. VYAIR's pumped 4-stage RO system is a new type of aquarium filter. Water after it has been passed through an RO system has a reduced pH. It is an excellent source to prepare appropriate conditions for aquatic organisms.
This system is equipped with two pre-filtration stages. The first is a sediment cartridge made from spun polyester.
It effectively removes sediments including sand, silt, dirt, rust, etc. The second is an in-line cartridge containing granular activated coconut carbon which is designed to remove chlorine and dissolved organic substances.
The main filtration takes place on RO membrane, which removes 96-99% of all impurities from water. Waste water is poured into the drain. It consists of a carefully blended mixture of virgin raw materials, strong acid cation and strong base anion resins. It is widely recommended for all non-regenerable mixed-bed applications where reliable production of the highest quality water is required, and where the resin must have an absolute minimum of ionic and non-ionic contamination before it is used.
Any pre-contamination in the resin will reduce its overall lifespan, so a high quality resin will last longer. Our MB-115 mixed-bed formulation is regarded by all in the water purification industry as the best performing mixed-bed de-ionisation resin available, consistently out-performing every other brand, pound for pound. Colour-change resin turns from green to yellow when it has expired, meaning you have a visual indicator of when your resin will need replacing. Ordinary resin usually requires to be checked with a TDS meter, however colour-change resin means you can tell at a glance when it is time to renew the resin.
This system has a factory-fitted electric pump supporting the input water pressure. Raising the water pressure in the system maximizes the efficiency of the osmotic membrane and thus ensures good performance from the RO system. If your water pressure is less than 2.8 bar then a system with a pump is highly recommended. The pump supplied with this system is very effective and has been designed for many years of efficient service. Moreover the pump is very quiet.
You have to listen closely to know if it is working. Our aquarium filter is factory tested and ready to use with connection hardware, tubing and instruction manual, all of which is designed to make installation and maintenance quick and easy without the need for a plumber.
It is offered as a complete set with filter cartridges, RO membrane, DI resin, additional accessories and valves to prevent the membrane from becoming dried out. PH of water after RO system depends on source water. Ystem dimensions: (H x W x D): 160 x 155 x 345 (mm). 5°C - 40°C (41ºF - 104ºF).
Operating Pressure: 2.8 bar (40 psi) - 6.0 bar (90 psi). Inlet feed water connector: 1/4. Typical Rejection Rate: 98% TDS (Total Dissolved Solids). Iron: 0.2 ppm maximum. Outlet Flow From Pump: 0.75 LPM. Dimensions (H x W x L): 25cm x 7cm x 7cm. High quality and competitive pricing. Easy to install and maintain with all accessories provided.
Produces pure water quickly with heavy duty 24V DC self-regulating pump. Designed to improve taste and odour of water with enhanced dirt-holding capacity. Free standing RO system p roduces 99.9% pure water via high efficiency membrane and MB-115 DI resin. Colour change MB-115 makes is easy to see when resin is exhausted and needs to be replaced. 100% sterilized and manufactured in compliance with NSF Standard No.
Manufactured from WQA and FDA approved materials. System constructed with John Guest style push-fit connections. Completely assembled and ready to use. Factory tested in the UK.
Point-of-Use (POU) systems will remove all unwanted contaminants that find their way into ground water supplies, directly affecting the quality of commercial and domestic mains water. Recommended especially for use with hydroponics and sensitive aquatic organisms requiring water that has been purged of dissolved solids and other particulate matter found in untreated water.
Ideal also for household use , perfect for small families, k itchen compact and will easily fit into any under counter space. This system will improve the aesthetics of water used for drinking and cooking. The RO-100MP is supplied with the following cartridges: PP, CTO. EC-203-200A self-regulating pump with safety step-down transformer. FDA approved water filter housings (including o'rings). Feed water connector (can be fitted to copper mains water pipe). RO membrane element type: RO-1812-100 thin film composite. Drain saddle valve, spanners for filter and RO housings. 10 transparent housing for DI resin chamber. 1 litre MB-115 mixed-bed colour-change DI resin. 1/4 tubing for system connection (5 metres). 400cc flow restrictor, automatic and manual flush switch. ADVISORY : Avoid cheap water filtration systems and cartridges which have no testing credentials or certifications, and often leach harmful chemicals into the water which are linked to cancer, birth defects and infertility. In addition, cheap components may also lead to membrane fouling, leaks and general poor performance. Instead, always choose VYAIR tested and certified water filtration systems and cartridges. 10 sediment cartridge (pre-filter) melt-blown polypropylene. 5 micron sediment filter traps dirt, sediment, rust and other particulate matter. 10 coconut shell carbon cartridge (pre-filter). Activated carbon block filter is used to reduce chlorine, colour, taste, odour and other organic impurities. Thin film composite reverse osmosis membrane (100 GPD - US Gallons), 0.0001 micron. Semi-permeable membrane removes salts, minerals, metals, bacteria, viruses, cysts, TDS, hardness, fluoride, pesticides, lead, mercury, cadmium, arsenic and more. Due to the time needed to remove all these ingredients we strongly recommend purchasing a water storage tank with your RO system. Mixture of cation and anion de-ionisation resin combined in a 40/60 blend. Mixed-bed demineralizer is used for final water polishing to clean the last few ions within water prior to use. IMPORTANT: Do not use with water that is micro-biologically unsafe or of unknown quality without adequate disinfection before or after the system. Water filtration systems can help reduce the presence of contaminants.
In addition, some water filtration systems can help reduce the presence of micro-organisms or other contaminants that pose potential health risks. Regularly scheduled maintenance and replacement of the filter cartridges is recommended in order for the product to perform as specified. As with all RO diaphragm pumps they are not designed for 24/7 operation and you need to rest the pump for 30 minutes every 4 hours.
This can be achieved using a low cost plug-in timer. Replace the filter cartridges at least every 3 or 6 months (depending on water quality). Replace the RO membrane every 2 to 3 years (depending on water quality). Not having one installed could mean that if you ever did have to claim damage caused by a burst water filter system, your claim could be denied. The item "VYAIR 100GPD Pumped 4-Stage Reverse Osmosis Fish & Aquarium Water Filter System" is in sale since Sunday, September 16, 2018.
This item is in the category "Pet Supplies\Fish & Aquarium\Reverse Osmosis & Deionization". The seller is "thewatersite" and is located in HORNCASTLE. This item can be shipped to all countries in Europe.
Type: Reverse Osmosis Unit
MPN: Water Fed Pole Window Cleaning, Fish & Aquarium
Brand: VYAIR