Telescopic Brush for Solar Panels & Windows Water Connection 1114 3657 mm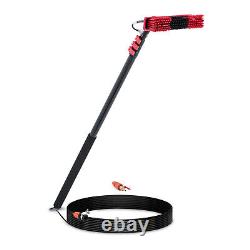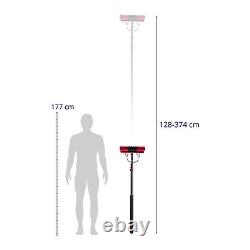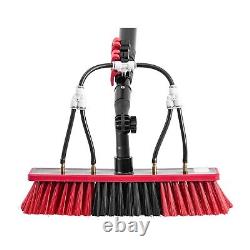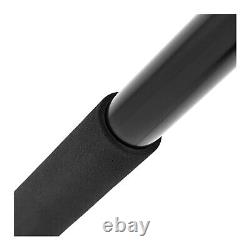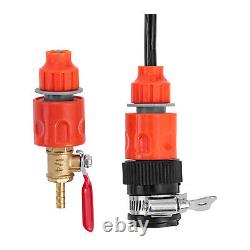 Expert customer service in 9 languages. Telescopic Brush - with water connection - for solar panels and windows - 1114 - 3657 mm ULX-SOCL S. Robust, lightweight, durable, tiltable brush.
Suitable for façades and poly- and monocrystalline solar modules. With water connection and angle adapter. Length: 1114 - 3657 mm. Gentle - brush is suitable for poly- and monocrystalline solar modules. Comfortable - easy to grip and lift thanks to its light weight.
Adjustable - extends from 1114 mm to 3657 mm with telescopic handle. Practical - with hose connection for high-pressure cleaner against stubborn dirt. Robust - made of high-quality materials for a long service life. Do you have a question?
Conveniently clean solar panels, windows and other glass surfaces with the telescopic brush from ulsonix. Thanks to the extendable handle, you can also use it for hard-to-reach areas. The telescopic wash brush has a water connection and 4 water sections. The telescopic cleaning brush with telescopic handle can be extended to 3657 mm. When retracted, the unit measures 1114 mm. Thanks to its long length, the telescopic car wash brush can be used in many different ways. The telescopic handle of the wash brush is made of robust aluminium. The fixed lock prevents the brush head from rotating around its own axis during work. Make cleaning hard-to-reach surfaces a piece of cake with the telescopic brush from ulsonix!
Your secret weapon against dirt: the telescopic brush, over 3 m long. This makes the extendable window cleaning brush ideal for professional building cleaning.
In addition, the brush head can be tilted by the angle adapter. Sparkling clean solar panels, windows and facades thanks to telescopic cleaning brush. You can easily reach high areas with it, no need for a ladder. You connect the telescopic brush to a high-pressure cleaner via a hose. This means you can remove stubborn dirt quickly and easily without having to scrub hard.
With the telescopic cleaning brush, you can gently clean solar modules - whether its poly- or monocrystalline. Regular maintenance helps to maintain the efficiency of the solar panels. Instead, the head sits in place so you can work without interference. The cleaning brush with hose connection is ergonomically shaped for a good grip.
The materials used are light and can be moved effortlessly, even during a long cleaning job. Allow yourself to be convinced by high quality and excellent service and order from MSW today! Dimensions of the folded device [mm]. Dimensions of the unfolded device [mm]. Max water entrance pressure [MPa].
The brand ulsonix provides highly efficient ultrasonic cleaners at an affordable price. The professional ultrasonic cleaners impresses with a fast cleaning process and a high cleaning frequency.
In the case of these devices, particular attention is paid to the materials used within the manufacturing processes. All ultrasonic cleaning devices from ulsonix impress with the stainless steel as well as the high-quality workmanship.
The quality is constantly maintained and controlled in accordance to the required high standards. The production processes are also subject to on-going tests and are always looking to improve, as well as various investigations in regards to the functionality according to strict guidelines. As a result, our devices guarantee satisfaction and a long product life and functionality.