IWEKW-8 Premium Water Softener Resin 1L / 2L / 5L / 10L / 25L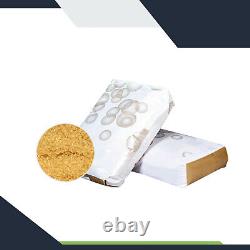 IWEKW-8 Premium Water Softener Resin 1L, 2L, 5L, 10L, 25L. For use in water softener vessels and as a direct replacement for exhausted water softener resin in domestic and commercial water softeners. Please note : This resin is NOT suitable for window cleaning, car valeting etc. Please see our mixed bed DI resin listings to find suitable products for those applications.
This product is highly suitable for a wide variety of drinking water treatment applications. We are the UK's largest online supplier of water treatment products, supplying to the trade and public from window cleaners, car valeting and campers to large industrial food and drink companies. Our comprehensive range of water treatment products is fully supported by our experienced team of specialised engineers.
Whatever you require we have a solution for your needs. We are able to offer expert advice and technical information on all Water Treatment services. Our main specialist areas of water treatment are. Please feel free to message us if you require any assistance or advice.