450gpd WINDOW CLEANING REVERSE OSMOSIS SYSTEM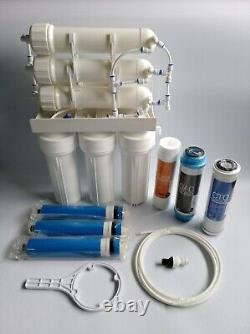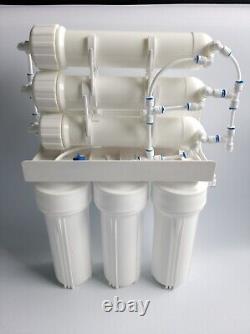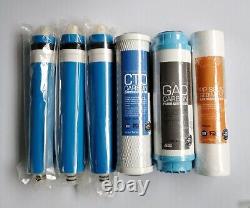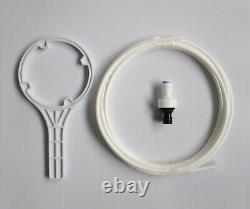 NO MIDDLE MEN SO WE CAN PASS THE SAVING ON TO OUR CUSTOMERS. All our products are CE / ISO9001:2000 / ROHS / accredited. And manufactured by a member of the Water Quality Association. ALL OUR PRODUCTS ARE UK STOCK. A range of quality water purification products and accessories.
450 gallons per day reverse osmosis water system. This Superb System Produces up to 450 US gallons per day of Purified Water and Comes with Installation Instructions, and all Pipes, Pre Filters, Post Filters, and Fittings Required for easy Installation. The 4 Stages of Filtration Are. A 5 - Micron Sediment Filter Made of 100% Pure Polypropylene Fibres.
Removes Dirt, Sand and Rust. A Granular Activated Carbon Filter Composed of High - Performance Activated Carbon. Removes Free Chlorine, Odour, Organic Contaminants, Pesticides and Chemicals.
A Carbon Block Filter Composed of High Performance Carbon. Removes Trihalomethanes, Pesticides, Volatile Organic Chemicals and 99.95% of Giardia and Cryptosporidium Cysts. 3 High Rejection Thin Film Composite Reverse Osmosis Membranes with the Capacity to Produce up to 450 gallons of Purified Water per day.
This Membrane Removes Contaminants Present in your Water Including, up to 99% of Dissolved Salts, Lead, Copper, Barium, Bacterial By-Products, Oestrogen and Silica. The input water must meet the following criteria for proper Reverse Osmosis function. Temperature must be less than 45 degrees Celsius. Iron content no more than 0.1 ppm. Water pressure must me a mimimum of 40 psi (2.75 bar) To acheive maximum water production you would require the optimum 80 psi of water pressure.
PH not less than 3 and not more than 11. TDS under 1000 ppm recommended.