25 Foot Evolution Fibre Glass Water Fed Pole V3, Hose & Connector + Free UK Del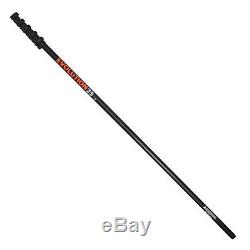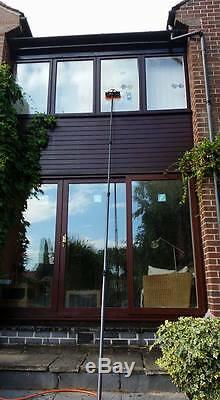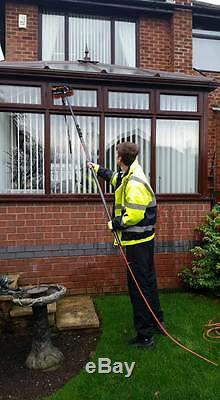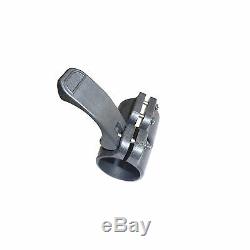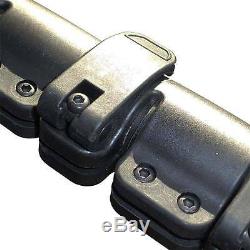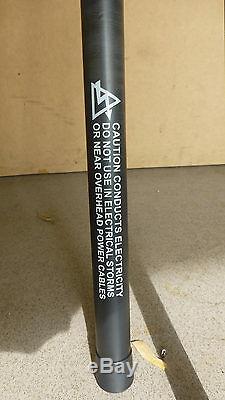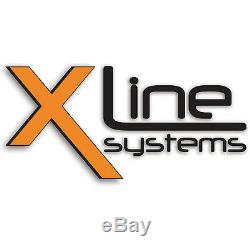 This water fed pole is suitable for domestic and light commercial cleaning, ideal for cleaning ground floor, 1st floor and some 2nd floor windows. Pole comes complete with our 5mm Xline pole hose, plastic angle adaptor and Hozelock ½ Pole Hose Coupling. The clamps on this pole are really easy to operate, they are strong/durable and grip the pole sections really well.
Our clamps are not glued onto the pole, so can be easily replaced if needed. The pole will come complete with 9.5 meters of our orange 5mm pole hose, this will have a hoselock style metal male connector allowing you to plug the pole hose into standard garden hoselock fittings. This 25ft pole will also include a plastic angle adaptor, this allows you to easily screw on different types of cleaning brush, and also to adjust the angle of the brush head.
The poles are securely packed and tracked and delivered via TNT/UPS. Easily extend your water fed pole as and when requried.
1 Main Water Fed Pole - Many Different Sizes. No Need for Multiple Poles. Simply use 1 main water fed pole for daily use, and easily add on extension sections as and when required. All 6ft 100% Carbon Fibre Extensions.
Possibilities to extend your 20ft Evolution pole to over 60ft reach, each extension section is 6ft in length. Easily Slides & Clamps onto Existing Base Section. Specifically Designed to Slide Over Nylon Base Cap. Need to reach that akward window, or next floor?
It only takes a matter of seconds to slide each extension section onto your pole and extends the working pole height by 6ft every time. Manufactured to sit flush against the side of the pole section, with a groove for the pole hose to exit from the side, instead of getting trapped and damaged. Designed to Protect the Pole Base. Specifically manufactured from a soft nylon material in order to be lightweight & durable.
Will also not scratch/damage any objects around you (such as a customers car). Side Exiting Slot for Pole Hose.
No More Damaging Your Pole Hose. In order not to constantly trap your pole hose between the ground and pole (causing damage), we have designed this base cap so the pole hose exits from the side for maximum protection. Sits Flush to the Outer Diameter of Base Section.
Easily Allows You to Slide Extension Sections Over Base Cap. Now you have the option of extending your pole with one of our 6ft extension sections without having to remove the base cap.
Durable Glue-Less Lateral Style Clamps. Fed up with clamps that easily snap, or spin? Our clamps have been designed to be hard wearing, with lots of room for tightening them over time, with the added benefit of being able to quickly replace a clamp with no-fuss.
Designed to Operate With Only 1 Finger. Looking for a clamp that is easy to use, in all conditions even when wearing gloves?
Opening and closing these clamps is effortless, can be used with right or left handed operators & won't get snagged on objects during use. Clamps are Removeble/Adjusted Using Only an Allen Key.
Ever snapped a clamp and been without your pole while you clean and re-glue on a new clamps? Our Evolution clamp can be replaced in a matter of seconds, so no sawing, glueing or grinding required, allowing you to get back to work sooner with a lot less down time. Want to quickly and easily change over brush-heads & goosenecks on your pole?
Then our 0-Clamp is the perfect solution. Allows you to interchange from a standard angle adaptor to gooseneck in a matter of seconds. Easily Swap Different Brushes & Goosenecks. No More Fuss when You Want to Use a different Brush Head.
Our 0-Clamp enables you to simply unclamp your current brush head, pull it off and insert a new attachment (brush or gooseneck) and simply clamp back down again. Quick Release Connector for Pole Hose. Allows you to Quickly Re-Connect The Pole Hose.
If you need to swap over different brush heads often, its worth utilising a quick release fitting so you can quickly re-connect your pole hose back up again, so no more fiddling about threading hose up and down your pole every time. Weaved Section Markings & Positive End Stops. Every extendable section on our Evolution poles now come with weaved markings on the end of each section, these act as a warning to let you know you are getting towards the end of each section. We have also added in a positive end stop on each section.
No More Over Extending Your Pole. Stops the Number 1 Cause of Clamps Snapping. In the past sections markings used to wear off over time, so you had no way of knowing if you had over extended the section, which would then put excess pressure on the clamp. Now with the coloured markings weaved into the actual material it guarentees they will not wear off over time.
Easily Feel When Each Pole Section is Fully Extended. When extending one of our Evolution Poles you will notice each section stops when they are fully extended, this means you will not be in a situation where your pole seperates into 2 as you are extending it (which normally means one half of the pole will end up falling to the floor). High Quality Flexible Pole Hose. Our premium range of Microflex Hose (available in 5mm or 8mm) is designed and manufactured to be used daily in all weather conditions without kinking. Fed up with your pole hose kinking up all the time, bursting/bubbling and not lasting very long?
Can be Used with Cold or Hot Water. Use a Hot Water System? Our 5mm Microflex hose will work with water temperatures up to 75 degrees, and will not burst or bubble up when in use. Easy to Coil up When Not in Use. Flexible with very little memory, this hose is a pleasure to work with and should easily outlast other types of hose available on the market.
The item "25 Foot Evolution Fibre Glass Water Fed Pole V3, Hose & Connector + Free UK Del" is in sale since Tuesday, April 21, 2020. This item is in the category "Home, Furniture & DIY\Household & Laundry Supplies\Cleaning Tools\Squeegees & Window Cleaning".
The seller is "xline-systems-2008" and is located in Ilkeston. This item can be shipped to North, South, or Latin America, all countries in Europe, Australia.
Sub-Type: Water Fed Pole
Brand: Xline Systems
MPN: EVO25
Type: Window Cleaning Pole